News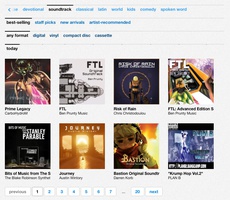 10 years already !
May 19, 2014
The day has come ! This is official, I've been rearranging music from video games for 10 years now. I can't believe how fast time has passed, since my debut release on VGMix back in 2004, "The Imprisoning War". It was a punk-ish version of the Hyrule Castle theme from The Legend of Zelda : A Link to the Past, and the reception I got on that day was pretty overwhelming.
I remade that song in "Unsealed" in 2005, and yesterday evening, on Arecibo Radio and during KyleJCrb's Nitro Game Injection show, a full-fledged 2014 version of it was streamed, in celebration of this 10th Anniversary, along with other arrangements of mine, and the long awaited Prime Legacy, which is, at the time of writing, best-selling on Bandcamp (see the screenshot here ?) ! Isn't that awesome ?
So speaking of Prime Legacy, it's now out for everybody to enjoy, and available on Bandcamp, Loudr and OverClocked Records. You can pick your favorite platform, all of them are good for musicians and the future of music in general.
Speaking of Unsealed, why is it not yet available ? Well I intend to release it as an actual EP using Loudr's awesome cover licensing platform. So an artwork is in the works, and taking the licensing delay into account, you guys will still have to wait for a bit longer. But don't fret, it's only a matter of days !
Well well. Now what ? Nobody can tell how these next 10 years will be, but I'll make sure you guys can keep enjoying more music, that's for sure ! Thanks to all of you for sticking with me, and as usual, stay tuned !