News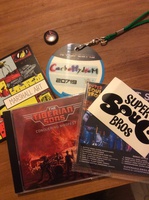 MAGFest XIII
Jan. 29, 2015
Saying that I'm a nerd would be an understatement, as I just went to the US for the first time ever, for MAGFest only. This is a fact, I did go to the other end of the world to attend a video game music festival, but above all else, meet many online friends, some of which I've known for more than 10 years. All these years, I've read their stories about the festival, and today I can finally get to tell you mine ! It is truly a wonderful experience, one that I want to live again as soon as I can.
Going to MAGFest and back, as a foreigner newbie
My coming to the festival was a bit adventurous. I love going on a trip with little to no intel, and searching for my way on the go, improvising. That's exactly what happened. I had packed in a rush because of lots of stuff to take care of before my departure; my flight from Marseille was initially cancelled a few hours before leaving my place, and fortunately I was registered on another. Things started to become fun once I entered the US, with my being kept too long in the passport check line, and missing the last buses from one of the metro stations that could lead me to the Gaylord center. After some trial and error, I finally arrived at the giant hotel, and it was night already.
Then on the way back at the end of the week-end, more fun happened. I basically had to take the same itinerary but reverse. I just once again missed a few details, like where the bus stops were located. I was in a hurry, after taking some extra time to hang out with the awesome Kirby's Dream Band crew at lunch. I missed the bus at one stop and had to run in town to reach the other one. After that I waited at the wrong spot in Washington DC, until I thought something was not right... Anyway, it all worked out in the end !
I've gathered tips to avoid the pitfalls I faced myself this time, see below.
Steps to get to the Gaylord center (when landing at Dulles International Airport)
Take the 5A silver line express bus from Dulles to L'Enfant Plaza station in Washington DC. You have to wait for it at stop 2E, which is a short walk on the right after exiting the terminal through door 4. The trip fare is 7$, so you might want to have at least this amount of change in your wallet.
Once at L'Enfant Plaza station, purchase a Smartrip card from one of the available distributors, it's the payment option that is recognized by the NH1 bus that you'll have to take later. Also, don't know if it'll be the case for you by the time you do it, but the Smartrip machine was like, really slow to give me one. Keep cool.
Take the green metro train toward South, and reach Branch Avenue station.
Take the NH1 bus to National Harbor and get off at Waterfront Street. From here, it's a short walk to the Gaylord center !
Steps to go back to Dulles from the Gaylord center
Take the NH1 bus at the St George Bvd stop or the Waterfront Street one and get off at Branch Avenue metro station.
Take the green metro train until you reach L'Enfant Plaza station.
Board the 5A silver line express bus (on D & 7th street only) and you'll reach Dulles International Aiport again.
Great memories never to be forgotten
First, MAGFest is all about people that you get to meet. And I was totally spoiled. Not only did I get to share a suite with the kindest of people, but pretty much as soon as I got to the festival, I kept shaking hands and hugging long time online friends I had never seen in the flesh, and whose music had been so dear to me during the past 10 years. I made new friends too, as the place was crawling with video game music enthusiasts and extremely talented musicians. I got the pleasure to hang out with guys and gals I knew from the VGMix 2.0 era and OverClocked ReMix community, but especially from the Shizz bulletin board, where I sometimes lurk, and where the Dwelling of Duels, my favorite music competition, was born in 2003. I can't describe how intense it was for me. I can't wait to go back and hang out with them again, play games together, and jam whenever we can. I'll miss them for a whole year.
Second, MAGFest is about panels and concerts, about video games and their music. I had my share of great stuff to see, believe me. About the bands I finally got to see live on stage, relentlessly headbanging to their performances until my neck breaks, here are a couple ones :
Triforce Quartet on the terrace.
Adam Henri's show in chipspace, and his awesome dual Nintendo-DS driven setup.
Machinae Supremacy, that saved me the money to go see them in Paris.
Kirby's Dream Band, firing insane amounts of bliss into my ears with their ultra-melodic punky-dancy songs. They also had a jamspace set as "Vic Viper", with guests taking instrument spots on each song, which was super cool.
Descendants of Erdrick, taking me by surprise by going all progressive on one of my favorite game soundtracks of all time.
LonelyRollingStars, whose set culminated in "LONELYROLLINGSTARS.BAT" being served to Katamari Damacy's composer with a merry-go-round that I was caught into.
Super Guitar Bros, who to my great pleasure had added new songs to their set (Castlevania 3 !).
Marshall Art's emotion packed gig.
Bit Brigade, who I really wanted to see after all I had been told, and who made up for the much missed Metroid Metal show in their very own way. They also played original songs as "Double Ferrari" later during the festival.
Super Soul Bros, whose incredible jamming stamina finished my hands, that I could barely clap by the end of their last night secret set.
The Tiberian Sons, who kindly offered me to attend one of their suite rehearsals, and who almost summoned Kefka to the real world.
Viking Guitar Live, who managed to kill it, even while having terrible mixing issues. These five fellows are musician monsters, and I'm so happy I could be there to see them perform this year.
Danimal Cannon, who really is the stage beast I've heard of.
virt, a.k.a. VGMix's founder and composer of many fantastic game soundtracks, who blew me away with rainbows of shovelry and orchestral stereoscopy
As for panels, I did not get to see a lot of them, but made sure I could attend at least :
Like every year, a special live Dwelling of Duels listening party took place, and this time I was there too. The theme was "Dancing", so everybody arranged game music in a dancy way, and it was a blast, although I did not enter the contest myself.
Last but not least, even though I had not brought an instrument with me, I still got to borrow one here or there and jam with friends on video game tunes for a little while.
To do next time
Going to MAGFest without knowing the ins and outs of the festival lead me to miss out on stuff. Here is a non-exhaustive list of the main stuff I'll have to think about for next time.
Aim at a early arriving flight, so that I can hang out more with my friends before the festival kicks off. Now that I know the way to get to the Gaylord center, it'll be easier.
Have a real mean to contact anybody at anytime - and not just my sporadically wifi connected tablet, with Twitter direct messages...
Enter the Dwelling of Duels and join the live fun !
Obviously, bring my guitar so that I can jam with every musician I find on my path !
Avoid talking to people in concerts room, and wait for quieter hang outs, instead of hurting their ears while I'm wearing earplugs !
See the gigs I could not this time because of overlapping schedules.
Aim at a later departure after the festival so that I can hang out a bit more with my friends and properly say good bye.
At the end of the day
I had the time of my life, and came back home 10 years younger. I should have sold all my belongings to go earlier. I feel so lucky to be part of such a great community. I'll go again next year, better prepared for everything. I've got to start saving money now !