News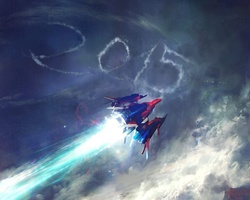 Music for the holidays
Dec. 14, 2015
It's been a few months with no new song, but as you can guess, I've been working behind the scenes on a few new tracks, and most of them being part of bigger albums we have to wait for the full projects to be released. The good news is that it's happening sometime this month, for most of them. So what have we got so far, and what's to expect next ?
Ghost Blade arrange
Last year I released "One Ship To Lead Them All" an 80s-style rock arrangement covering music from DUX, an indie Dreamcast game by Hucast. Well these guys had another game in development, a vertical scrolling shooter called "Ghost Blade" and it was actually released a few months ago. I worked on 2 remixes back in 2013, and patiently waited for the game to come out before letting you guys hear them. And here they are now.
In fact, these two songs are based on the same source material, the first stage theme, which I could hear back then in an unlisted gameplay video. But I had fun arranging them in two completely different ways. So the first one is called "Rock Blade" and is a techno-rock variation of the aforementioned theme, while the second one, that I've just released a few days ago, is called "Funk Blade", and I guess you can tell what genre it is in. I hope you enjoy the cool contrast between those two.
Bundle of WIN, or chiptune presents under your tree
For those of you who enjoy the chiptune side of my musical arsenal, you might be interested in getting your hands on an amazing Groupees bundle that is on sale right now and will be until December 22nd, for only $2.
Among a still growing number of albums (several bonus have been unlocked at the time of writing), it contains Prime Legacy, and a brand new chiprock track of mine called "Milky Way Train", very much in the same style as the former's tracks.
Sound Waves, Ecco The Dolphin
The team behind the Super VG Christmas Party album project of last year announced this summer a new project, also scheduled for release in December : Sound Waves, an Ecco The Dolphin tribute album.
Although, the one track I would have arranged myself had already been claimed, I still contributed to it with a few guitar parts, hence teaming up with his owner, Matheus Manente, who had also taken part in the Super VG Christmas Party compilation, but whose music I was completely unfamiliar with. I got to meet another of these hidden musician gems who wander around the Internet without anybody knowing. And with our track and this whole Ecco album, you guys will soon get to hear the chillest songs ever.
Chronicles Of Time, Chrono Trigger
Next upcoming track ? I have actually contributed two to the upcoming Chrono Trigger tribute album "Chronicles Of Time", one of which is already available for listen and called "In The Presence Of More Ennemies". I took care of guitars only on this one, as part of the "Hindsight" virtual band, together with Kain Lacroix (drums), Maxime Noël (arrangement / bass), and Bryan Hakim (lead guitars).
Watch out for the release of the full album, if all goes well later this month. An insane amount of songs in various styles are yet to be heard !
Leaked info about a new arrangement ?
Back in November, I was invited again by Stephen and Bryan Kelly, this time to their new OverClocked ReMix podcast, to talk about an old song of mine, ie Mega Man 9's "A New Beginning". If you haven't had a chance to give it a listen, feel free to, as we also mention matters such as my arranging approach, what tools I use, and time turkeys !
Some critically interesting information was leaked too, as I randomly told them about the next arrangement I'm preparing. And that it might be a collab' too. Probable release date later this month ? We'll see !
Lives Out
Now here come the gamedev news ! Have you heard of the Asylum Jam ? It's a special game jam event that took place in November this year, and where game developers must create horror games. I teamed up with my friend Sébastien "Khnoum" Canovas to create a short storytelling game in less than 48 hours.
We did not finish in time, and took rather 72 hours to complete our entry, that you can try out here. After that we fixed a couple bugs, and started thinking about expanding the gameplay and changing this small and linear game into a richer experience, where the story continues... A huge pile of work awaits !
The soundtrack is available for listen on Soundcloud, and should you try the game, feel free to let me know what you thought !
Second Legacy
So yeah, we're approaching the end of the year, the approximate time when back in 2014 I started mentioning that little doujin shmup I'm building piece by piece alone in my cave. You may have seen a title-screen shot, or watched that teaser video I released in July. Now what if I released a playable demo ?... I just need some more time this month to cut out stuff that is not working yet and fix a few things, but we're getting there. I look forward to showing it to you guys.
Generally-speaking the game is still far from being finished, but as far as gameplay mechanics go, it should give you a pretty good idea of where we are going. In 2016 I'll be working mostly on the game content, adding more stages, true graphics, final pieces of music and SFX, etc...